(CNN Business)Civil rights and activist groups blasted Facebook's leadership on Tuesday after meeting with CEO Mark Zuckerberg and other executives to discuss the demands of a large advertiser boycott that now includes hundreds of brands.
"The meeting we just left was a disappointment," said Rashad Robinson, the president of Color of Change. "[Facebook] showed up to the meeting expecting an 'A' for attendance."
Free Press, a media activist group and one of the organizers of the #StopHateForProfit campaign to halt ad spending on the social network, said Facebook still has not taken the boycott's calls to action seriously.
"Instead of committing to a timeline to root out hate and disinformation on Facebook, the company's leaders delivered the same old talking points to try to placate us without meeting our demands," said Free Press Co-CEO Jessica Gonzalez. "Facebook approached our meeting today like it was nothing more than a PR exercise."
In a statement, Facebook spokesman Andy Stone said the company has established new policies banning voting and census suppression and removed more than 200 white supremacist organizations from the platform.
"This meeting was an opportunity for us to hear from the campaign organizers and reaffirm our commitment to combating hate on our platform. They want Facebook to be free of hate speech and so do we," the statement said. "We know we will be judged by our actions not by our words and are grateful to these groups and many others for their continued engagement."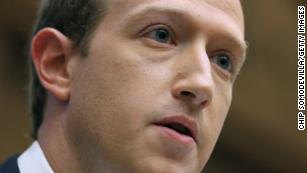 A long list of big and small businesses, including household names like The North Face, Pfizer (
PFE
) and Levi Strauss (
LEVI
), have joined the pressure campaign over the social network's handling of hate speech and misinformation. The companies participating in the protest have vowed to pull their ads from Facebook and Instagram for at least the month of July.